Business Intelligence (BI) software is revolutionizing how we do business. It's one of the fastest developing segments on the market, and for good reason. Business leaders can harness the power of their data in an ever-increasing number of ways at a speed never seen before. What matters most, of course, are measurable results: increased efficiency, time saved, disasters averted and profits boosted to name a few.
Yet according to a 2018 Gartner report, through until 2022, only 20% of analytic insights will deliver real world outcomes. That's a sobering figure. Like any worthwhile tool, however, countless external factors can significantly impact both the user experience and the desired benefits. Let's dive into common reasons BI initiatives fail and how to not only avoid them, but actually maximize returns on your data.
Lack of clearly defined data goals
Like knowledge, data is power. Yet without the right motivation, focus and action you'll likely get nowhere fast. Clearly defining ROI, KPIs and overall expectations is the first and possibly most crucial factor in determining results; if you don't know what you want, how do you know when you've got it? This vision and subsequent oversight need to come from business leaders (CIOs for example), those that are in tune with what's driving success or failure within their organization. Too many BI initiatives derail simply due to lack of planning, organization and follow through. Working with business intelligence consultants is one way to increase chances of success. Make sure the BI software firm you choose offers specialized consulting services.
Poor data quality and maintenance
From baking a cake to building a car, the quality of parts of a whole determines the end product. The same can be said when it comes to business data. A modern BI system needs to be able to handle continuous streams of data from multiple different sources, all synched up into one hub. This raw data then needs to go through the ETL (Extract, Transform & Load) process. Data must be analyzed and filtered for things like anomalies, errors and relationships. In essence, we are looking for six things:
Completeness – what data is missing or unusable?
Conformity – what data is stored in non-standard format?
Consistency – what data values give conflicting information?
Accuracy – what data is incorrect or out of date?
Duplicates – what data records or attributes are repeated?
Integrity – what data is missing or not referenced?
Setting clear data governance policies, data management roles and standardized collection methods all lead to higher quality data. This quality data can then be further analyzed within a BI solution to create what we call 'Master Data', which can then deliver those highly prized insights with reliable accuracy.
Software Shortcomings
A recent bisurvey.com report identifies three main areas where problems arise when implementing a BI project. They are people related, data related and technology related. We've covered the first two so let's look at how the software selected can have an impact. Over 3,000 professionals with first-hand BI experience took part in the survey. Here are their most common technical complaints:
Product could not handle large numbers of users

Product could not handle data volumes

Query performance too slow

Security limitations in the product

Software too difficult to use

Software is not flexible enough

Unreliable software (bugs, etc.)
Obviously, these are quite serious roadblocks to a positive user experience. And no matter how well an organization manages and migrates its data, a poorly selected software can stop a project in its tracks (it's important to note that 40% of survey respondents said they had no significant technical problems with their BI solution).
This brings us to choosing the right software for the job. There are plenty of options out there with wide ranging benefits. So how can one sort through the noise and find the right fit? Again, this comes down to our first point above — defining your needs and outcomes. Then and only then can we move forward. Using data collected by the Business Benefits Index (BBI) on BI projects, let's compare 'How Buyers Choose' software versus 'How Buyers Should Choose' software based on criteria common in successful projects.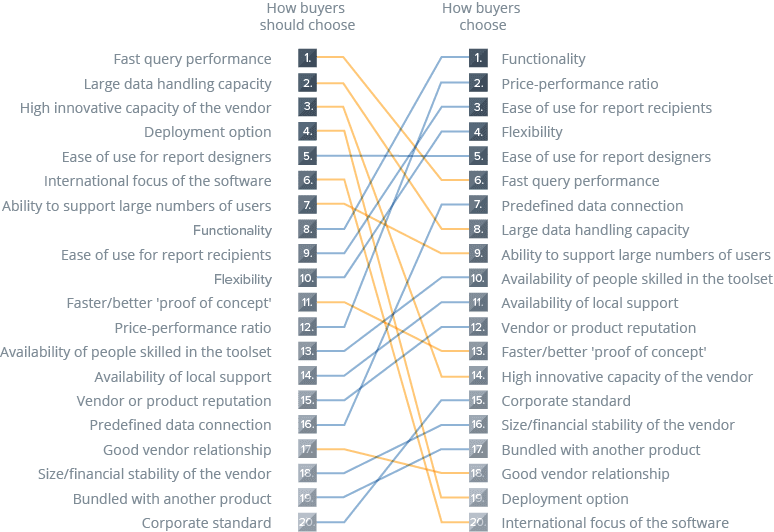 Software selection criteria (image: bisurvey.com)
Instead of focusing solely on price or ease of use for example, users should look for solutions that can handle their demands. Simply put, a more affordable yet inadequate software is actually more costly in the long run, both financially and time wise. BISurvey.com also suggests that those in the market for BI should focus on the product itself rather than the vendor, 'Analysis reveals that using product-oriented selection criteria increases project success.'
What Makes Dyntell Bi Different?
BI isn't a magic wand like some would have you think. It is, however, an extremely powerful tool that when properly managed can have lasting impact on your business. In relation to the common pitfalls mentioned in the article, Dyntell Bi offers users a highly customizable experience with cutting edge data prep, analysis, visualization, planning, alerts and prediction features.
Consulting and customization
Have you ever put on a custom tailored suit? Now imagine a business intelligence solution which is tailor made for your IT system. Dyntell Bi can respond to your transactional systems, trigger external processes and machines, and deliver a fully embedded solution just for you. Additionally, our consultants are on hand to guide your team towards identifying and reaching your data goals.
Data Hygiene
Clean, polished and complete is what we want. That takes preparation and maintenance. 
Is ETL (extract, transform, load) the hardest part of data analysis? Maybe. But it doesn't have to be. If you have dozens of datasets from multiple data sources, you likely need a more sophisticated tool. That's where we can help. A built-in solution allows visualization during the ETL process, meaning no wasted time and near instant access to visualization of your valuable data.
Software that works for you
Every business is different. There is no one size fits all solution for the complex decisions leaders make daily. That's why we've designed Dyntell BI to adapt to your demands. Some BI solutions are turn key, highly user friendly and with almost no learning curve, yet lack substance. Others are complex and cumbersome but truly deliver once decrypted. What we've developed is a system that sits somewhere in the middle. Users can go from raw data to visualizations and insights rapidly, while also drilling down, filtering and tweaking data to their heart's content.