Insightful Data Analysis and Prediction with BI.
THE DEEPEST POSSIBLE UNDERSTANDING.
Hassle-free installation, extensive support.

Visualization
Watch your data come to life with sophisticated charts that make the complex look simple.

Analysis
Dive deeper for real discovery and easily manipulate your charts for important insights.

Prediction
Envision the future with serious accuracy so you're prepared for success.
Imagine a house and its floor plan. The plan provides the same information as the house itself. The crucial difference is that only the architects and its site managers can truly understand the plan. Only with a 3D visual of the house can others have a detailed and insightful understanding of the house.
Your business data is the same. Make your information accessible to more people. Help them understand certain processes, analyze results, and predict possible future trends. Don't miss a thing and empower your whole corporation with smart data crunching.
Sign up now for new trends and get an insightful case study related to business intelligence.
Join hundreds of innovative companies for free

20
years of professional experience


20,000
vulnerabilities found and highlighted per day

45,000
BI visualizations in active use

100 million
patterns examined per hour
Not sure what BI can do for your business?
Schedule a free 15-minute call with our BI expert and get all your questions answered.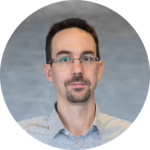 Peter Tar
Director of Business Development