Dyntell's end-to-end platform is built to eliminate the barriers between users and their data so they can make smarter, faster data-driven decisions.
HR professionals use Dyntell Bi to hire and keep the best.
Use your Data to Drive your Success
Data on your hiring process and employee retention rates is a treasure trove of information. Take it to the next level wth dashboards from Dyntell Bi. Our crystal clear visualizations let you do deep dives to find problems and opportunities that get lost in the waves of raw numbers. In addition to visualizing and analyzing, you can also predict trends so that you're prepared for what's next.
With Dyntell Bi, you can take control of the hiring process. Since new hires cost more than valued employees, it's important to understand what motivates people to stay — or causes them to leave. By tracking your employee turnover rate, you'll be able to improve it. You can also reduce your time to hire and up your efficiency. And, you can stay competitive by tracking competitors' salaries against your own.
Dyntell Bi makes your data come alive by showing the interplay between hours, tasks and productivity on a stunning dashboard of visualizations. You also oversee compliancies as well as wellness programs and benefits. Can you data do this now? With Dyntell Bi it will.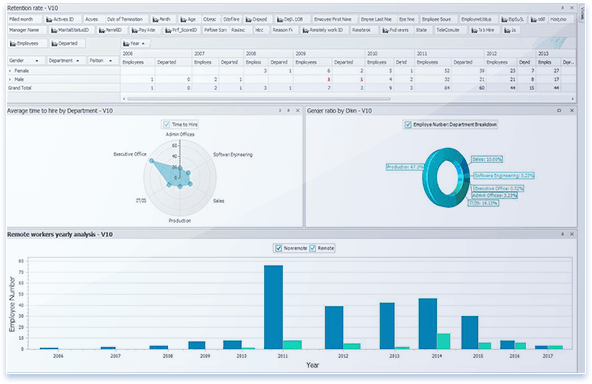 Sign up now for new trends and get an insightful case study related to business intelligence.